The Global Hotel Industry
1. Currently, the global hotel industry has been following some major trends. The revenue of the world hospitality is estimated at about $550 billion by the end of 2016. The industry revenue has a strong growth trend since the year 2009. In particular, the total revenue of the industry was $305 million in 2009, $419 million in 2010, and $457 million in 2011 ("The global hotel industry," 2015). Europe and Asia Pacific continue to be the main areas for the hotel industry. The reason is that in these regions, the hotel occupancy rates are the highest in the world, and they reach more than 68%. In the Middle East and Africa, the average rate of hotel occupancy is about 63% and about 64% in the US. The Middle East and Africa are the most expensive regions in the industry. Their room rates are approximately $165.97 per day whereas the average daily price for a hotel room is about $140 in Europe, $115 in Asia Pacific, and $121 in the US ("The Global Hotel Industry," 2015).
In hotel industry, to study the main players, their revenues should be taken into consideration. In 2015, the largest hotel chains by their revenues were the following: InterContinental Hotels Group (IHG) – $24 billion, Marriott International – $14.5 billion, Hilton Worldwide – $11.27 billion, and Accor – $6.1 billion. Shangri-La was the eighth in ranking with revenue of $2.12 billion ("Revenue of Selected Leading Hotels," 2016). Concerning the number of hotels and rooms in hotel chains, IHG is the largest one in the world. It operated 4,840 hotels with 710,295 rooms in 2015. Hilton takes a second place having 4,278 hotels and 708,268 rooms respectively. Marriott is the third largest hotel chain with 4,117 hotels and 701,899 rooms ("Global Hotel Ranking 2015," 2015). Shangri-La Hotel is not included in the list of top ten hotels.
The main entrepreneurial, technological and hotel marketing trends are expected to influence the development of the hotel industry by the end of 2016. In particular, the trends include the increase in share of the millennial travelers among tourists meaning rise in share of people from 20 to 35 years old among all customers. They are expected to become the dominant group of hotel services among the consumers by 2017. One more trend is the growing interest in using mobile devices and different apps for hotel services such as apps that help to provide more personalized hotel guest services. This trend is obvious because more than 75% of the travelers consider their smartphones very important for their trip. Moreover, more than 1 in 3 travelers use smartphones more during journeys than at home. Therefore, in addition to growing share of young travelers, the trends are favorable for popularizing apps and mobile services in the hotel industry ("The Global Hotel Industry," 2015).
Software as a service (SaaS) is a mainstream technology used in cloud computing, which becomes more attractive for modern hotel industry. SaaS is a good investment because the costs for its implementing are relatively low, and the hotel quickly becomes more competitive. Consequently, marketing trends are changing, as well. For example, more than a half of the hotel bookings in all countries are made online. Thus, hotels tend to focus on online marketing efforts and use modern technologies in order to reach customers and to be competitive in the industry. In particular, many hotels increase their budgets to communicate with customers via online channels and improve ROI. Moreover, online presence is increasing as more hotels and chains develop their websites with different functions, including useful information for customers, real-time prices, as well as room availability and ability to book rooms online. In addition, online presence for hotels includes online advertising, meta-search, online ads and banners, email market, social media presence, and others. The latter becomes especially popular because many customers choose hotels based on online recommendations. Thus, hotels use social media in order to promote themselves as well as to find potential customers ("The Global Hotel Industry," 2015).
2. A strategic group map includes two dimensions, namely the number of hotels in a chain and the global revenue (see Figure 1).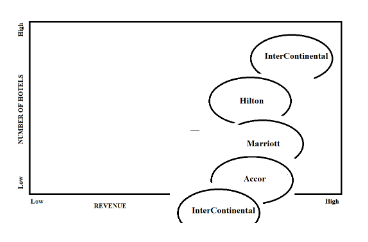 Figure 1. Strategic group map
Strategic group map shows the main competitors in the industry by their global revenues and number of hotels. Shangri-La Hotels and Resorts are not included in the map because the group's number of hotels is reasonably lower as compared to main competitors in the market. Regarding the industry trends, its main direction is the increase of hotel chains that means a growing number of hotels and rooms globally ("Global Hotel Ranking 2015," 2015). Moreover, Shangri-La Hotels and Resorts are the eighth in the global list of competitors with the highest revenues ("Revenue of Selected Leading Hotels," 2016). Therefore, the trend in hotel industry shows the growth of the most powerful chains that open new hotels and thus increasing the global revenues. Thus, the direction to choose for Shangri-La is increasing the number of hotels and rooms in order to reach its main competitors. It is possible to open new hotels in countries in which they are not represented yet and in market where a lack of hotels is vital. Due to that, the company will be able to increase its revenues.
3. Shangri-La's financial performance from 2013 to 2015 can be considered positive; however, there are some negative trends. Due to the increase of hotel chains, the total revenues are growing from $2 billion in 2013 to $2.12 billion in 2015. At the same time, the profit attributable to equity holders decreased from $392 million to $140 million, which resulted in the drop of earnings per share from 12.57 cents in 2013 to 6.89 cents in 2015 (Shangri-La Asia Limited, 2016, p. 2). Total equity increased a little, namely it was $6.87 billion in 2013 and reached $6.89 billion in 2015 (Shangri-La Asia Limited, 2016, p. 2). EBITDA decreased from $572 million in 2013 to $530 million in 2015 (Shangri-La Asia Limited, 2016, p. 2). Thus, it can be stated that Shangri-La increased its equity as well as the number of hotels, which contributed to the decrease in profits.
4. WCSA will be completed only for Shangri-La because absolute information is not available for its competitors. Hotel chain growth is a great competitive strength because Shangri-La increases the number of hotels in the chain constantly and worldwide. Recently, the company focused on expansion to Western countries; nevertheless, Eastern countries are also considered. It allows Shangri-La Hotels and Resorts to take over new markets and increase its revenues. Thus, the weight of this strength is 25%. The level of services is very important, and its weight is 25%. Shangri-La is focused on excellent Asian hospitality traditions and uses them in its hotels. Moreover, hospitality practices are adapted to each country and region, in which hotels operate, to satisfy local customers. Employee level is important and has 25% in weight because employees receive proper training and provide the high level of services. Training programs are effective and efficient, and they aim at improving important employee skills. Staff members have opportunities for career growth, and they are stimulated to work on the highest level. Moreover, their decision-making power is helpful in good hotel management and customer satisfaction. The salary level and costs take a favorable position in the company because most hotels are located in Eastern countries with low wages. Thus, the costs spent are lower as compared to Western competitors. Overall, all advantages seem to have similar weights (see Table 1).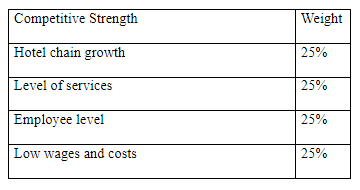 Table 1. Weighted Competitive Strength Analysis
5. Some blue ocean strategies may be used by the company's CEO. The first strategy is making competition irrelevant. Shangri-La can do it by providing advantages that are not offered by its main competitors. It will, therefore, make competition irrelevant. For example, Shangri-La can offer lower prices as compared to its competitors because it has already experienced the low wages and costs. The experience of low costs in Eastern countries can be used in Western countries. Moreover, it can offer new services and features due to its well-trained employees. As most competitors do not use such training, they may fail to provide similar advantages to customers.
Moreover, Shangri-La Hotels and Resorts can create an uncontested market space. The company can also achieve this goal by providing some services that the competitors do not offer yet. Certain services can be covered depending on the region in which a particular hotel operates. Thus, in each country where Shangri-La hotels function, it is necessary to study the competitors and services they provide.
Finally, Shangri-La can create and capture a new demand. For instance, if electronic booking is not available in the country, it is possible to offer its creation and, therefore, make a new demand. If local hotels do not provide excursions, Shangri-La can offer them. Restaurant or other services can be offered in case the competitors do not present them. Thus, everything depends on the particular market and services available or absent there. For Shangri-La Hotels and Resorts, it seems a quite easy task to introduce new products and attract customers since this chain is famous and trusted by customers.